Rob Weinkove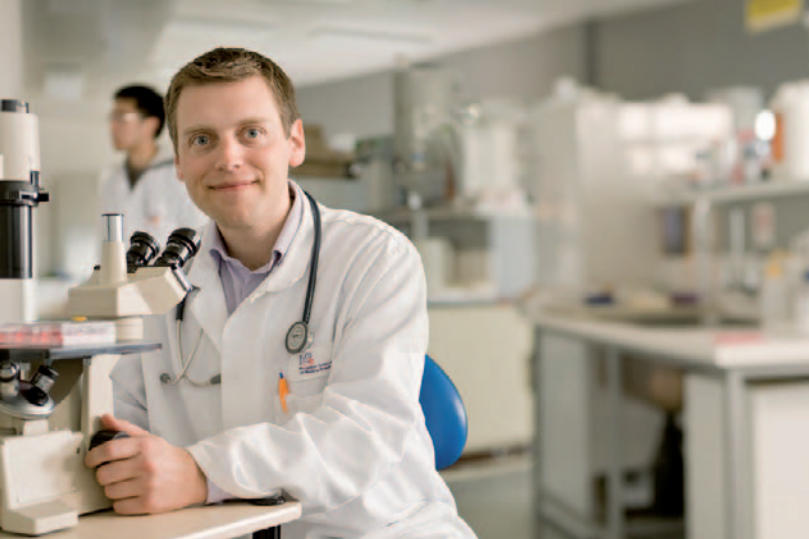 I am working to establish New Zealand's first clinical trial of chimeric antigen receptor (CAR) T-cells. This exciting technology involves modifying patients' immune cells in the laboratory, to 're-direct' them against malignant cells, then growing these modified cells in the lab, before returning them to a patient. We're also working in collaboration with the Ferrier Institute, with my team testing new vaccines for their potential activity to fight cancer.
Cancer Research Trust NZ has helped me establish a successful research and clinical career at the Malaghan Institute of Medical Research and at Wellington Blood & Cancer Centre. We now have a pipeline of potential cancer immunotherapies, which we are taking into clinic trials. The support offered by Cancer Research Trust NZ helps recruit and retain enthusiastic clinicians and researchers, encouraging best clinical practice and a culture of excellence at cancer centres across New Zealand.
The Cancer Research Trust grants I received in 2008 and 2013 were essential and set me up for pushing into new realms of research to support innovative and accessible treatments for cancer. My current work has directly stemmed from these.
We're working with a Chinese pharma company to bring CAR T-cell technology to New Zealand, by conducting early phase clinical trials which are at a planning stage now, facilitating regulatory approval, fast-tracking the introduction of pharmaceutical company trials, and eventually enabling routine availability of the most effective treatments.
"Finding ways to activate a patient's own immune system with the help of vaccines and CAR T-cell therapy to kill tumours and reduce recurrence is exciting.
"There are huge potential benefits if we could offer a one-off treatment that could protect against, or even be curative for, some cancers, rather than just prolong life.
More Case Studies