Cancer Research Trust NZ looking for support to fund some of New Zealand's most promising cancer research

Cancer Research Trust NZ has received 50 funding proposals from some of New Zealand's best minds in cancer innovation in its latest grant round.
The funding grants, which will be announced later in the year, support exciting New Zealand-based initiatives across the full spectrum of cancers and will help speed up discoveries in prevention, early detection, diagnosis, treatment and end of life care.
Cancer Research Trust NZ Executive Director Dr Douglas Ormrod emphasised the importance of the community's support to these projects.
"Thanks to the generosity of our many supporters from around New Zealand we can award high-impact grants that allow New Zealand's best minds in cancer to embark on innovative research projects that will help us get cancer on the run. These cancer research initiatives fall across the full spectrum of cancer and act as a catalyst to speed up game-changing discoveries."
Almost everyone in New Zealand, at some point, will be affected by cancer in their lifetime, and cancers devastating effects are felt in every New Zealand community. Each year more than 23,000 New Zealanders, young and old, men and women, will be diagnosed with cancer.
While there has been great progress in research into many cancers in the last few years, more funds are needed to ensure our researchers are properly supported so that they can make the discoveries which will help to save lives, today and tomorrow.
"Each grant round we fund many great research projects, but unfortunately we are always oversubscribed, and there are always excellent projects that fall below the budget cut off. We would love to have more money to support these talented NZ cancer researchers, so please consider donating to Cancer Research Trust NZ," said Dr Ormrod.
"As every dollar donated to the Trust goes directly to supporting these projects, the public plays a direct role in enabling us to ensure that the most promising cancer research initiatives New Zealand receive the funding that they need," added Dr Ormrod.
It takes considerable time and effort to ensure that the right people and projects are funded every grant round. To enable the Trust to do so, they created a twelve-person Assessment Committee comprising of some of New Zealand's most respected clinical and radiation oncologists, biomedical researchers, a psychologist and a senior palliative care nursing specialist.
In addition, funding proposals are externally peer reviewed by hundreds of researchers around the world who generously donate their time to the Trust to ensure that the Committee has the best information possible in order to make a decision.
Since its inception, Cancer Research Trust New Zealand has awarded over $16 million in grants to support New Zealand-based research projects and professional development. Funding from Cancer Research Trust New Zealand has helped some of New Zealand's the most successful cancer research projects get off the ground.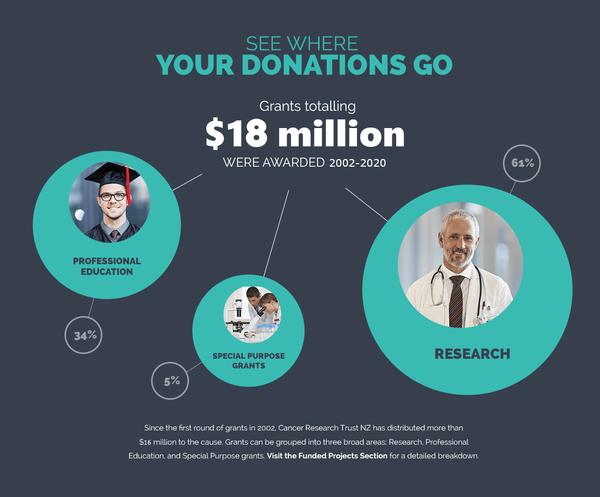 ABOUT THE CANCER RESEARCH TRUST NEW ZEALAND
Cancer Research Trust New Zealand is the country's second biggest independent cancer research charity, funding over $15 million in research and professional development projects since 2002. The Trust provides grants to support New Zealand-based initiatives that will lead to improvements in the prevention, detection, diagnosis or treatment of all types of cancer, or improvements in palliative care. To learn more visit: www.cancerresearchtrustnz.org.nz/we-are-getting-cancer-on-the-run.
More Research News