Is immunotherapy the way forward?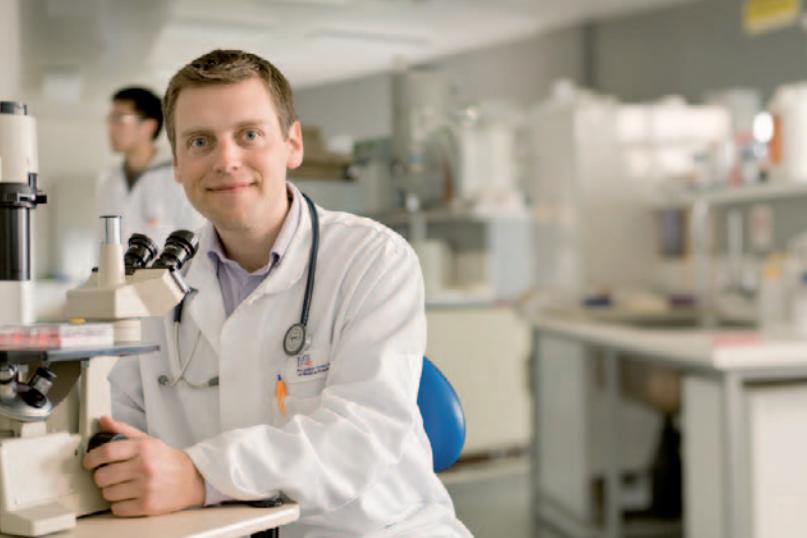 Harnessing and boosting the power of a patient's own immune system to fight cancer is a developing area of research. With the support of the Cancer Research Trust, Dr Robert Weinkove of Wellington's Malaghan Institute has been investigating the potential of a practice called 'immunotherapy' to treat patients with leukaemia.
Immunotherapy focuses on lymphocytes, a type of white blood cell. They are critical for the way our immune systems recognise bacteria, viruses and cancer cells, and research has shown that some lymphocytes also recognise lipids (types of fat molecules). These rare but very potent lymphocytes are called natural killer T cells, and have a special ability to activate other immune system cells to recognise and destroy cancer cells.
Dr Weinkove gathered blood samples from patients with chronic lymphocytic leukaemia (the most common leukaemia in New Zealand), and from healthy volunteers. He then analysed and compared these blood samples to determine the numbers and the function of natural killer T cells.
The results showed for the first time that natural killer T cells can be found in the blood of patients with chronic lymphocytic leukaemia. Moreover, the patients' natural killer T cells could be isolated and grown in the laboratory, and could produce chemicals which stimulate other immune system cells.
Dr Weinkove was able to treat leukaemia cells with a special lipid molecule, and use leukaemia cells themselves to activate patients' own natural killer T cells. This boosted patients' immune responses against their own leukaemia cells.
For his research, Dr Weinkove was awarded the prestigious Albert Baikie Memorial Medal at the 2010 Haematology Society for Australia and New Zealand Conference. He is currently writing up his research findings for his PhD thesis and for publication.
More Research News