Cancer Research Trust-funded researchers win prestigious US competition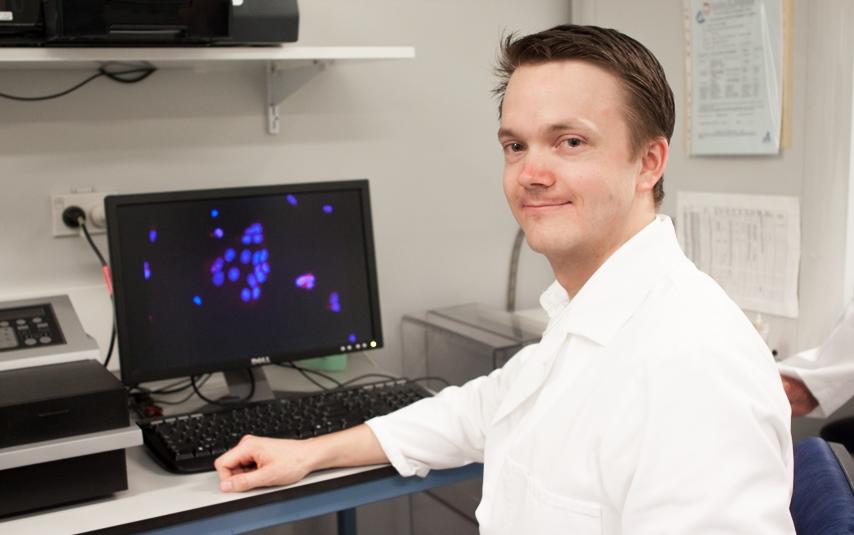 Two New Zealanders, who completed their PhDs with funding from the Cancer Research Trust, are members of a joint team from Auckland and Stanford Universities to gain funding that will help accelerate the commercialization of their innovative breast cancer therapy.
Dr Francis Hunter received a Postgraduate Scholarship Award from the Cancer Research Trust (GOT) in 2010. His colleague, Dr Graeme Fielder received his in 2006. After completing his PhD, Dr Hunter was awarded a Fullbright Platinum Triangle Scholarship and is now studying for an MBA at Stanford University in San Francisco, USA. However, he maintained research links with colleagues at Auckland University, particularly with Dr Fielder in relation to the development of a therapeutic armed antibody to treat breast cancer.
Graeme and Francis, together with a colleague at Stanford University, entered the Breast Cancer Startup Challenge, which aims to commercialize technologies relating to breast cancer care. The Challenge has $US250,000 funding from Avon Foundation for Women, and is run in partnership with the National Cancer Institute, and the Center for Advancing Innovation (CAI), both in the USA.
Two hundred teams were asked to participate, and 46 were selected to compete from the world's top Universities including Duke, Caltech, George Washington, John Hopkins, and Stanford. In total, 478 people participated in the competition. Given the number of teams and people on each team, this challenge is one of the largest global university business plan challenges to date.
Cancer Research Trust NZ Programme Manager, Douglas Ormrod, said a cornerstone of the GOT grants programme is the annual Postgraduate Scholarship Award which provides three years of fees and a stipend to allow graduate students to undertake a PhD. Eleven scholarships have been awarded to date.
"All successful candidates have met our long term expectation, but some exceed expectations as with Graeme Fielder and Francis Hunter," said Dr Ormrod.
Rosemarie Truman, founder and Chief Executive of the CAI, said, "Today, progress in breast cancer research depends on step-change advances in technology and on paradigm-shifting strategies to rapidly bring these advances to market so they can be used by scientists and physician."
The Breast Cancer Startup Challenge is comprised of 10 research technologies that were judged to show great promise to advance breast cancer research. These 10 inventions were developed at the National Cancer Institute in the United States and at an Avon Foundation for Women-funded university lab and include therapeutics, diagnostics, prognostics, one device, one vaccine, one delivery system and one health IT invention.
Teams of business, legal, medical/scientific, engineering, computer science students and seasoned entrepreneurs have evaluated these technologies to create business plans and start new companies to develop and commercialize them.
The team of Drs Fielder, Hunter and Mitchell Ho from Stanford will receive licence and seed funding to take their potential therapeutic antibody to the next level. The laboratory research work will be carried out in both Auckland and the USA.
For more details of the competition: http://www.breastcancerstartupchallenge.com/
More Research News